Bol d'Or 2018 Mirabaud regatta results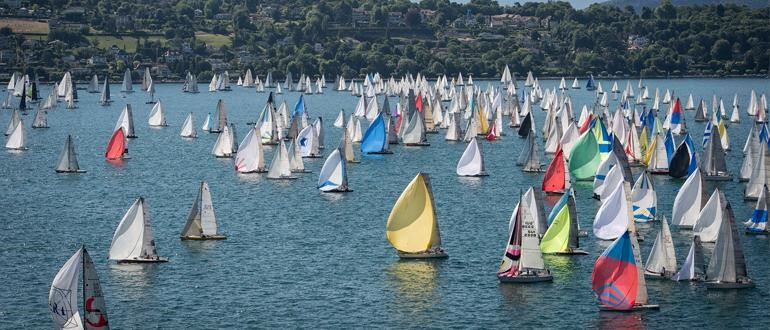 The Bol d'Or Mirabaud regatta is the biggest regattas in the world. This big sailing competition on the lake of Geneva attracts more people each year. Here, you will find a little summary and the results of this incredible competition.
About the Bol d'Or Mirabaud
The Bol d'Or Mirabaud regatta has been created in 1939 with 26 participants in Switzerland. Today, the regatta counts 600 participants and is organized by the SNG (Société Nautique de Genève). The competition is on the lake Geneva, the sailboats cross the entire lake. The shortest distance is 123 kilometres or 66,5 nautical miles. The winner of the competition wins a trophy. The trophies can be kept by the winning team only if they win it for 3 times in 5 years, which is difficult. The last edition was during the 8-10th June 2018, it was the 80th edition.
For this special edition, activities were organized during the competition: concerts, a photographic exhibition… You can also find a comic book, especially created to trace the story of the Bol d'Or Mirabaud.
The results of the Bol d'Or Mirabaud 80th edition
With always more and more participants, the competition is more difficult every year. During the last edition, the boat Mobino has finished at the first place with the helmsman Christian Wahl with a time of 14 hours 14 minutes and 2 seconds. His patience and his technique allowed Christian Wahl to win the trophy. The end of the competition was nerve-wracking with a lot of excitement with 4 boats extremely close. There was hardly any wind and the 4 boats were within 100 metres as they tried to find the wind. This screen illustrates the end game of the regatta perfectly.
Just behind the first boat, 3 minutes apart, it is the sailboat Okalys Youth project with the helmsman Arnaud Grange. His course lasted 14 hours 17 minutes and 5 seconds. Behind the Okalys Youth project sailboat, the Ylliam Comptoir Immobilier sailboat with the helmsman Bertrand Demole, with a time of 14 hours 18 minutes and 35 seconds. Arnaud Grange and Bertrand Demole were very close to the arrival trying to advance on the agitated water, when Christian Wahl came out of the shadows. He crossed the finish line around midnight. All three competitors sailed a D35 (Décision 35) boat.
Others competitors of the Bol d'Or Mirabaud crossed the finish line after a race of almost 31 hours and a lot had to abandon due to the little wind.
If you want to discover more information about the history of the Bol d'Or Mirabaud regatta, you can read this article.