French Riviera – east from Marseille to the italian border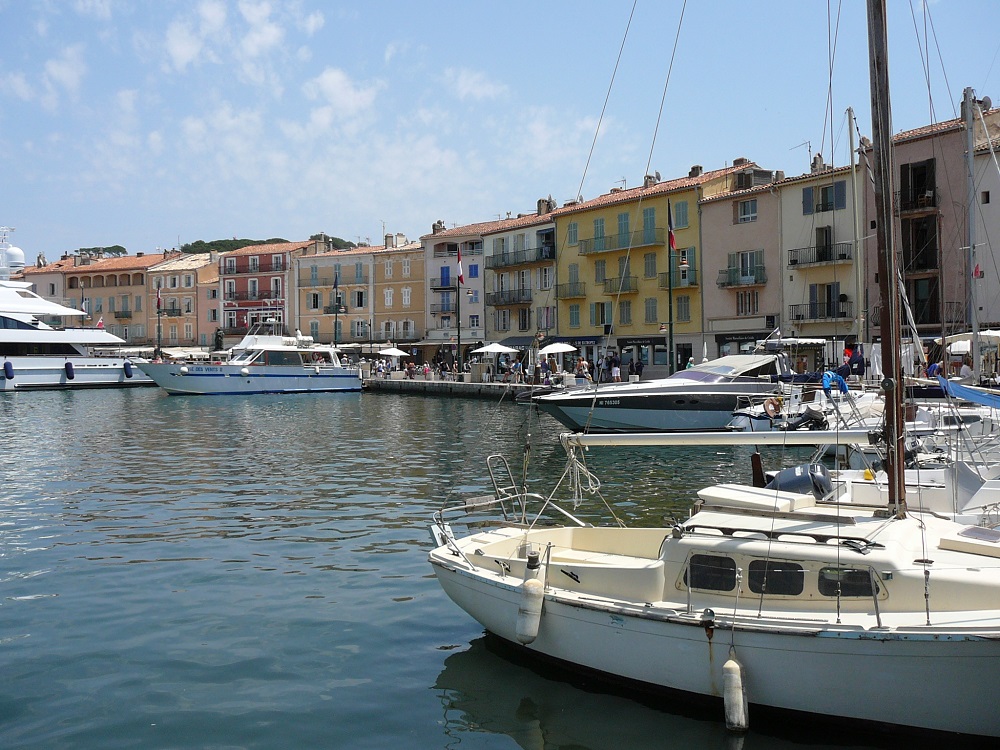 Highlights
France is one of the most receptive countries for yachtsmen, with marina developments in most of its coastal areas and with dedicated spaces for visitors on the French Riviera. Together with the country's reputation for high end gastronomy, it is a magnet for yachtsmen from all over the world and is a popular destination for sailing holidays. Its harbours and marinas like the Vieux port and Sanary-sur-mer can be full to bursting point during high season, which in most areas coincides with the main French holiday season, from mid-July up to the end of August.

This popular and busy cruising area includes the world-renowned, low-lying marshland area of La Camargue around Saintes Maries de la Mer, the cobalt blue sea inlets of Les Calanques around Marseille, the idyllic offshore Iles d'Hyères and the fleshpots of the Riviera Coast such as St Tropez, Cannes, Antibes and Nice.
When to visit the French Riviera
The frequency of winter gales and cold offshore winds dictate the comfortable sailing season as being May to September, though adventurous souls keeping an eye on the forecasts will manage quite a bit of sailing in April and October, benefiting from lower prices and plenty of marina space afloat. The high season is from mid-July to the end of August.
Where to go – the most important marinas

/east from Marseille to the italian border/
From Marseilles to San Raphael     
East of Marseille is a whole other world than to the west. Striking scenery all the way, only occasionally broke by overbuilding. Just east of Marseille are the very famous "Calanques", miniature limestone fjords, which serve as nice day anchorages if you can find room. All weather anchorages are the bay of Toulon, the Gulf of St Tropez, and the Île d'Hyères. With the islands of Porquerolles, Port-Cros and Île du Levant, and this area is well worth  exploring in depth. Île du Levant is shared by a navy firing range and a nudist colony.
La Ciotat is a small town that used to have many shipyards, now being re-established as yards for super yachts.  The town has many good small shops and many restaurants. A good one being at the Yacht Club in the Vieux Port which with it's reasonably prices is an adequate shelter for visitors. Both the marina and the Vieux Port are suitable for overwintering or leaving the boat.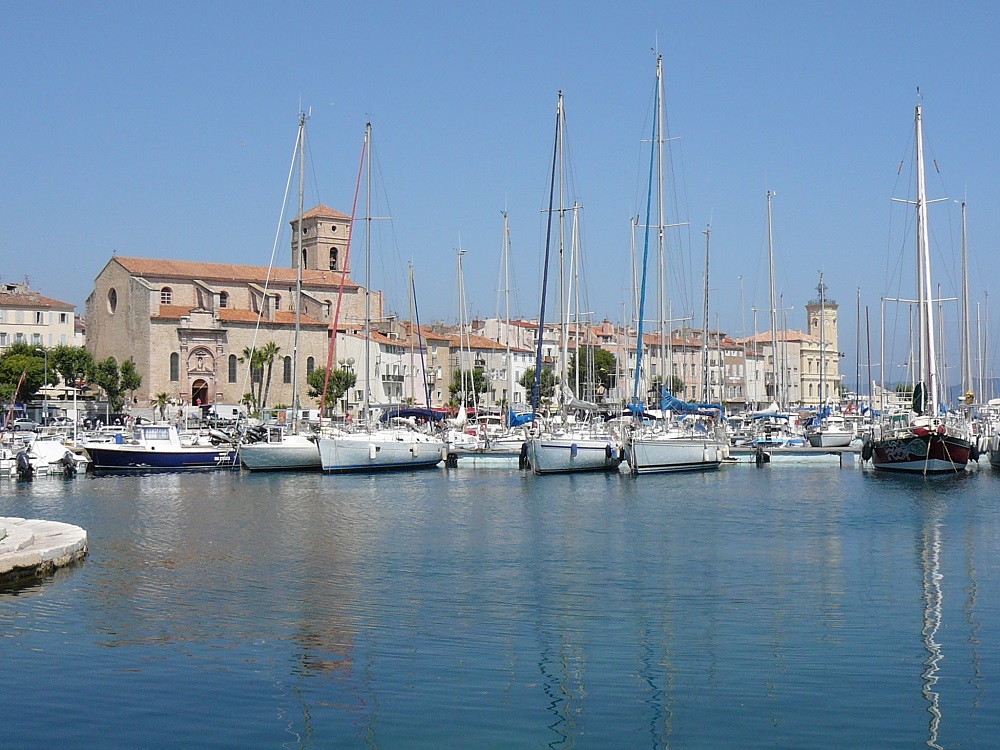 Sanary-sur-mer is a delightful place but not really geared up for visitors in the marina as they have limited toilet and shower facilities, so you'd better call ahead and reserve a berth.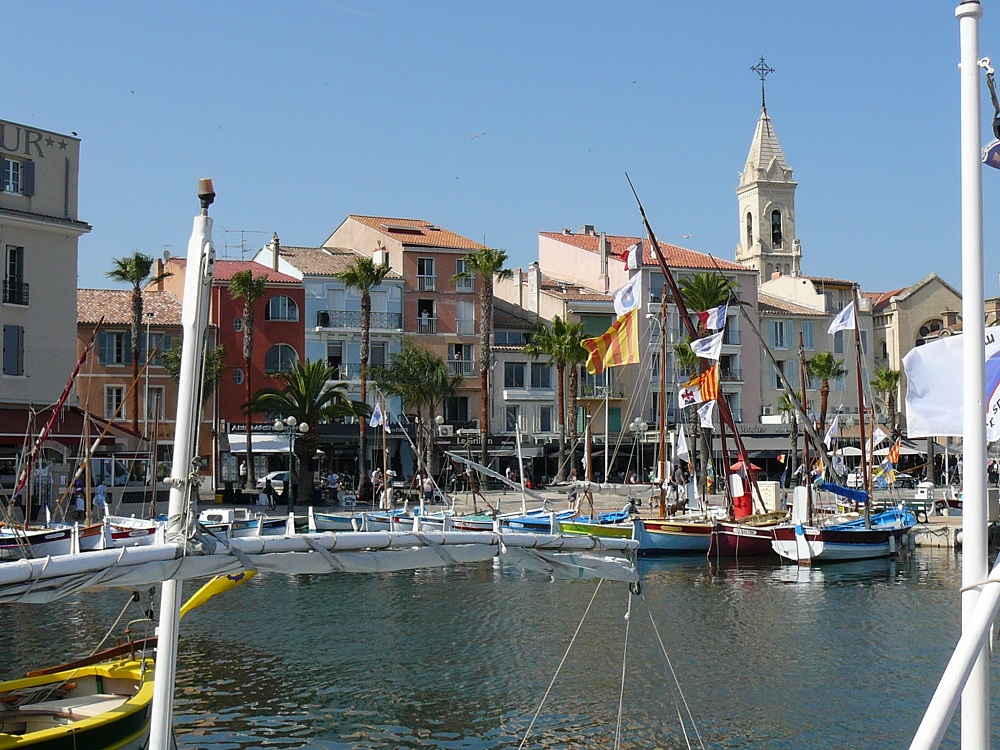 Île Porquerolles has a marina and good anchorages. Facilities are good and there are adequate provisions, maybe rather more expensive than on the mainland. Plenty of good walks or cycle ride opportunities.
Port Cros has laid moorings, very reasonable charges but arrive early at this popular spot. Beautiful walks ashore.
Bormes-les-Mimosas, is a very well organised marina with good facilities.  Limited provisions available but adequate shops in nearby la Favière. Not cheap and less interesting than its near neighbour,
Le Lavandou is a delightful Provençale town with an adequate marina, moderately expensive. Good shopping.
Cavalaire-sur-mer is a touristy stopover, a holiday resort, however it has some very good restaurants. This is a reasonably priced stop, but toilets and showers are not in the top rank.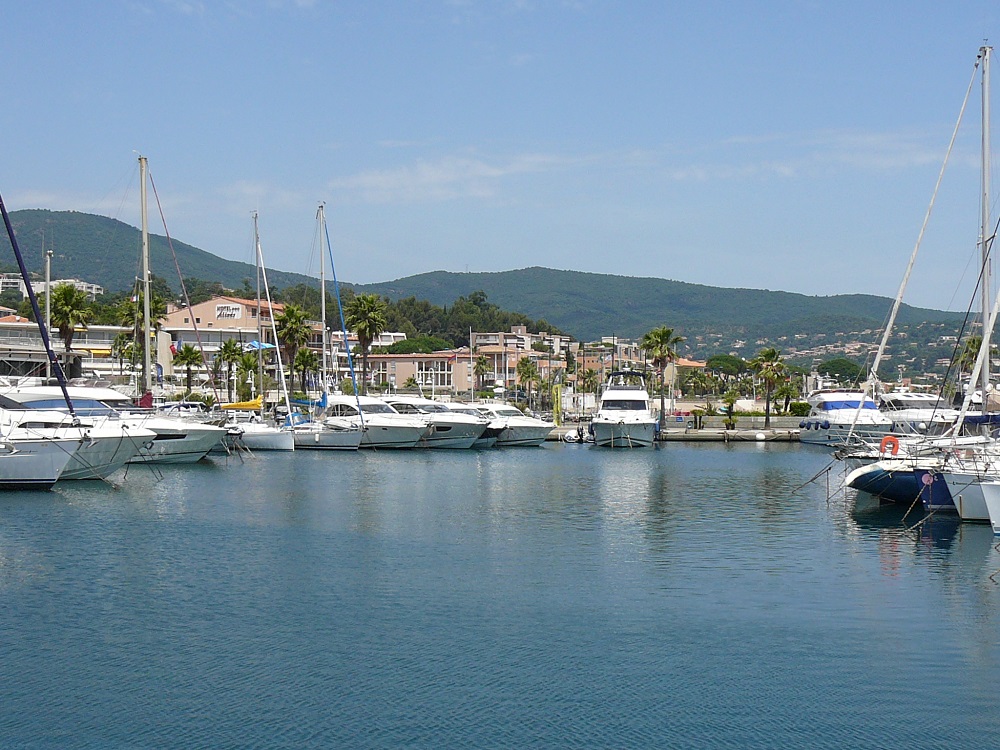 St Raphaël is a moderately pricy but a very good marina (near Fréjus).
Alpes Maritimes/Côte d'Azur
From St Tropez eastwards to the border is well sheltered from the big Rhône valley winds. This is the summer playground of big boats and big money, but not always expensive. There is a reservation service for several of the ports in the area from La Napoule to Menton. Reserve for the same day or the next two days by calling 0820 422 600!
St Tropez, nowadays, is as expensive as you might imagine. It's worth a night in the marina just to see the well heeled at play in the old harbour and to visit the old town, which has retained its Provençal flavour. For the later try it out of season.
Anse des Canebiers just east of St Tropez is a reasonable anchorage exposed to the north-east. Water off St Tropez is too deep for many boats to anchor.
Sainte-Maxime opposite St Tropez is good value and offers visitor berths. A ferry service runs into the centre of St Tropez.
Cannes. The bay has five marinas, but the best bet is the large marina at La Napoule, five miles west. In high season they will only give you one night on a visitor's quay. However, once in, ask for more nights and they will fit you in if possible. Near Cannes it is worth visiting Îles de Lérins which are two islands. An anchorage between the islands is often empty at night. The old monastery on Île-Saint-Honorat does a thriving trade in their home grown wine.
Antibes, despite being the home of the super-yacht, is surprisingly inexpensive. First class food is available at the market close to Port Vauban.
Villefranche is a good marina, quite small, sheltered in South-East gale, though some swell will get in.  Moderately priced, and a charming town to walk around.  To find good holding in the bay, go close to the bathing buoys for shallow depths and pick your spot.
Anse de la Scaletta has good shelter from southerlies when Rade de Villefranche on the opposite side of Cap Ferrat is exposed. Slight swell but much less than in Rade de Villefranche.
St Jean Cap-Ferrat and Beaulieu-sur-mer are both good marinas but likely to be full in high season; the latter has greater shopping options.
Monaco. Port de Monaco, (Port de la Condomine) is uncomfortable, mainly from boat movements, and expensive, being the very centre of Monaco. The alternative is Fonvielle, also expensive despite being beside the Monegasque industrial estate.  Or just to go into the Vieux Port. Shopping there is expensive, but this is Monaco/Monte Carlo – something you can't miss!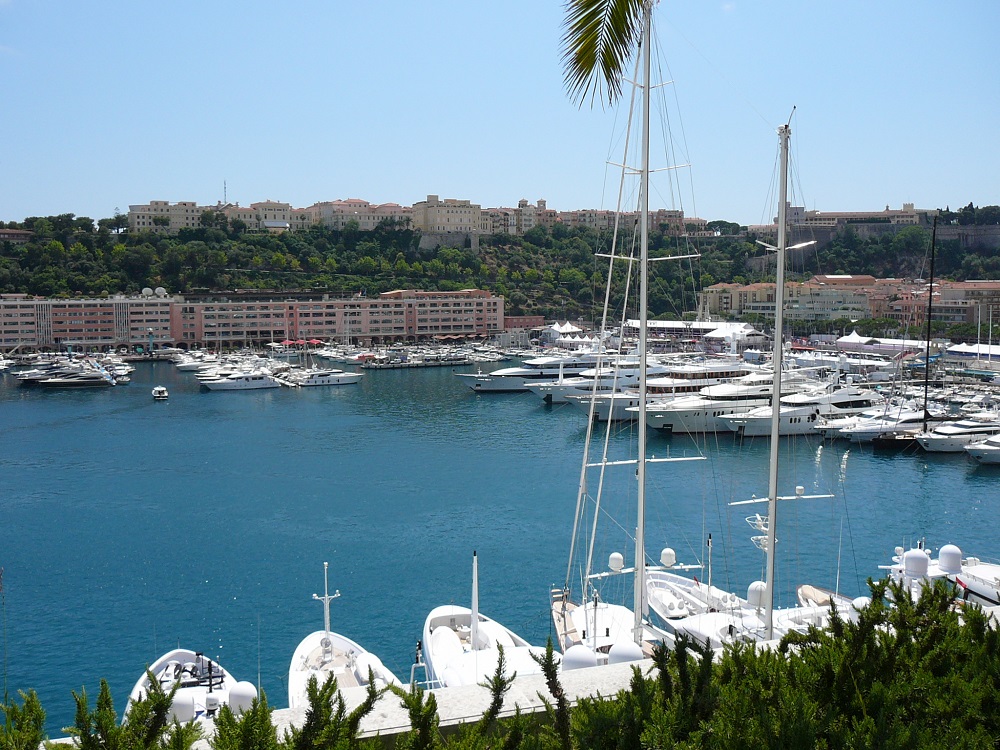 Menton has two overnight options in le Vieux Port and the marina, Menton-Garavan.  The Vieux Port is nearer the town with its excellent shopping and restaurants. It is also reasonably priced. The marina is nearer to supermarket, has been recommended for overwintering, and is moderately more expensive. Good facilities at both.
Useful information before leaving
It is difficult to book wintering marinas along this coast. Long term contracts (year or more) are largely subject to 2 year waiting lists. Visitor's berths for winter are usually only offered after face to face contact.
Documents
Vessels must carry their original registration document, insurance policy and ship's radio licence. At least one member of the crew must have a radio operator's certificate of competence. For EU boats, proof of VAT status is also required.
EU Vessels & EU Nationals
For European Union members, EU regulations apply. Vessels arriving from another EU country do not need to clear customs, they must however report to Immigration. Vessels registered in countries falling under the Schengen Agreement, (i.e. vessels from Spain or Italy) do not need to clear immigration.
Non-EU Vessels (incl. EU vessels with non-EU nationals aboard)
The skipper must report to customs at a port of entry with the ship's registration papers and passports and sometimes the customs officials will visit the boat on arrival. The Customs officials may also sometimes inspect yachts that are up to 12 miles from the coast. The port captain must be contacted immediately on arrival in a marina or port, and he will usually notify Customs. If not, the skipper must phone Customs.
Vessels
EU regulations apply concerning temporary importation. Non-EU boats are allowed to remain inside France for up to 6 months during any 12-month period. Vessels wanting to stay longer must lodge the ship's papers with the local Customs office, who will place the vessel under a "bond". The clock will then be stopped until the owner returns on board. During the period that the vessel is in "bond", the vessel must NOT be moved from its berth, and NO-ONE is allowed to sleep aboard.
Vessels that are borrowed, chartered or owned by companies can arrive in France under a temporary importation permit. The SAME PERSON that brought the vessel into France MUST remain in charge and take it out of the country again. If arriving on a "borrowed" vessel, you must have written permission for the use of the vessel from the owner and that the vessel can enter French waters.
Crew changes are allowed while in France if the "entry" skipper remains on board. The only changes of owner or captain allowed are on privately owned vessels, where the person in charge may hand over control to a member of the immediate family (spouse or children), who must not be resident in France. A vessel's co-owner may hand over to another co-owner, who is listed as such on the official ship's documents. Delivery crews may bring in a vessel into France for the owner to take over, or sail a yacht out of France on behalf of an owner, provided that a proper delivery agreement is documented. The yacht being delivered is not allowed to stop anywhere else in France except at French ports of entry/exit, unless the vessel is forced to stop elsewhere due to adverse weather conditions or other unforseen circumstances.
Yachts may not be "lent", "hired" or sold while in French waters, while under the above temporary importation permit.
Only bareboat charters are permitted in French waters and if the yacht is foreign owned, proper formalities and registrations must be completed.
Taking on paying "crew" is not permitted in France – this is considered to be chartering. If a vessel is carrying paying passengers, this must be declared to Customs on arrival in France, the yacht imported and TVA (Value Added Tax) must be paid.
Customs
Firearms MUST be declared.
PETS – France will accept animals which arrive under the Pets Travel Scheme (PETS) Cats and dogs must have an anti-rabies vaccination certificate (dated at least 30 days in advance and within 12 months of date of entry). A Health Certificate from a veterinarian (dated within 5 days of travel to France), is required. Other animals must be inspected by the health official on arrival. A maximum of three dogs and/or cats may be brought in on the vessel.