Yacht, boating and the charter industry & marinas around the world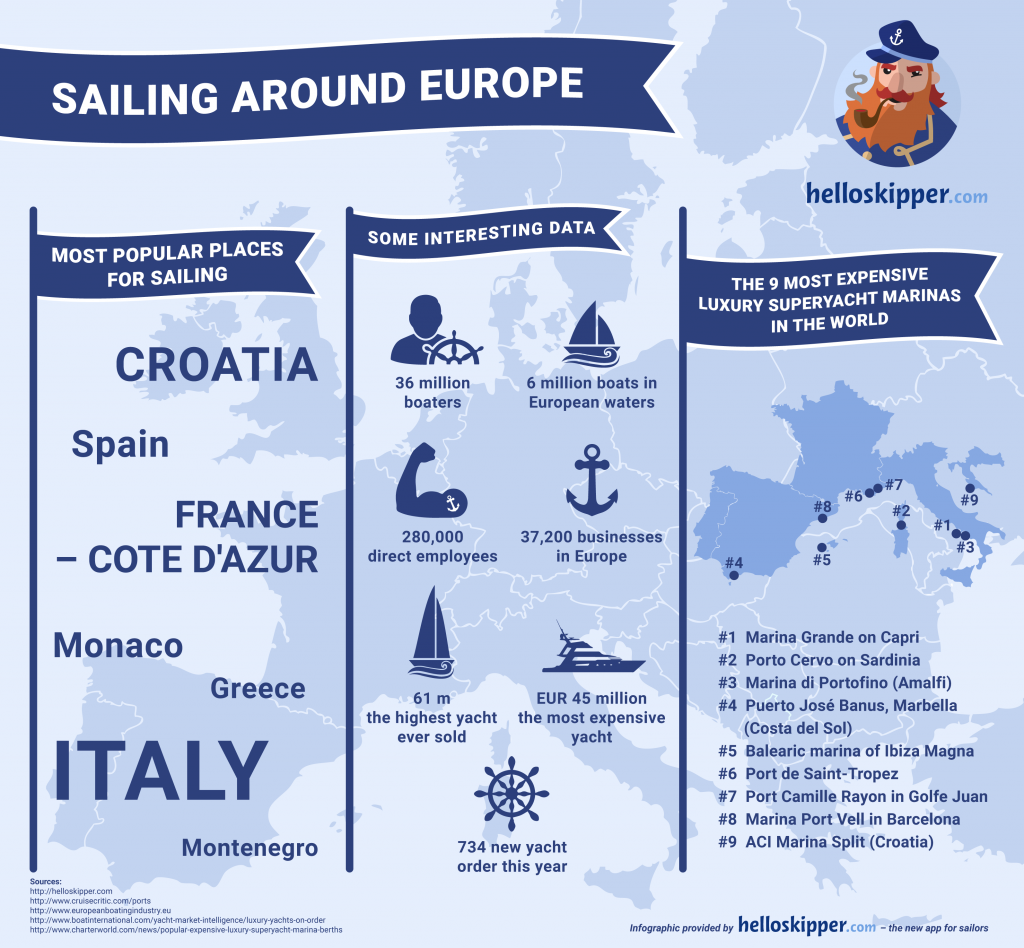 As soon as the summer kicks off, the number and the variety of the yachts, boaters and skippers are growing. Taking a look at some of the European ports and marinas, we could face tiny boats (under 30 meter) and superyachts (above 50 meter) as well. The mooring of these superyachts however can be pretty expensive.
The most famous marinas in the world are placed at the Mediterranean Coast. Yet, surprisingly the most expensive marina in the world is not Monaco. It is located in Italy. At Marina di Capri more than 2600 euros are charged for a one-day staying, meanwhile at Porto Cervo (Sardinia) – which is the second most expensive port in the world – the same staying costs about 2500 euros. At the same time, in Monaco, it is possible to dock for only 1000 euros.
One advantage when our yacht moor up at these ports is that we never know whom we might bump into. Marina di Capri for example is the favorite of Beyoncé, Jay-Z and George Clooney too. Yet, at another Italian port we might encounter Steven Spielberg or Rihanna.
The market of the superyachts is rather concentrated. The biggest turnover is reached by North-America and Europe. In 2014 the majority of the boats (whether a simple boat or a yacht) were made by the Italians. China has a growing importance here too: has been ranked in the TOP 10  for more consecutive years now, reaching no. 8 last year.
Nevertheless, the most popular sailing destinations are still the cheaper Soutern-European ports. As a result, the majority of the yacht charter companies'  headquarters are placed either to Turkey or to Greece. It is not a coincidence that the yacht market has high contribution not only to the Greek employment, but also to the European. After the financial crisis of 2007-2008 the profit of the yacht market has sharply decreased, but today it counts for  8 billion euros turnover  and an annual growth rate of 6%. The European manufacturers are dominated by SME's (97%), only a tiny fragment employs more than 1000 workers.
In the future, since the Chinese and the European cultures differ, the look and design  of the superyachts may change. Europeans and Americans consider yachting as a summertime leisure, however for the Chinese, yachting is a business area, so more covered space are necessary. Until the manufacturers adapt to the new desires, the market is up to a really fast growth.